WEST SIDE
* Pete's Place
* The Last Call
* The Hurry Inn
All three of these bars are located on Warren Ave. just west of the Southfield Fwy. and east of Greenfield, on Detroit's west side. They are all within stumblin distance of each other and are all biker friendly.
* 3 Nick's
* Krazy Louie's
These bars are also located on Warren Ave. between the Southfield Fwy. and Greenfield. Hitting these joints along with The Hurry Inn, Pete's Place and The Last Call are what's known as "Doin the Warrendale crawl". The Warrendale area on Detroits west side is famous for the number of bars in close proximity to each other. It's a real throw back to the days when this city had a cool little mom & pop joint on nearly every corner. Most of these places have been in opperation since the late 40's and early 50's. There's NO WAY the liqour control would let you put this many bars on one stretch of road today. These places have helped sustain the strong sense of community that has keep this neighborhood thriving through generations. (Note: These are just the bars on Warren that we have decided to list. There are actually a few more on that street as well.)
* Chick's Bar Chick's is on Warren Ave. (yeah, near the other 5 places - I told you there were a lot of bars there) just 4 blocks west of the Southfield Fwy.. Not a biker bar but deffinately Biker friendly and a great fish and chip dinner on Fridays. Really cool cover outdoor patio for your summertime enjoyment.

DOWNTOWN DETROIT
* The Old Miami Bar - An awsome old inner-city jewel. This bar started life as a hang out for vets from the Detroit chapter of the Viet Nam Vets of America and now serves Vets, Bikers, Wayne State Co-ed's and venerable neighborhood regulars. This bar is on Cass Ave. two blocks north of Mack and twp blocks west of Woodward. It's best kept secret is the 1/2 acre private yard out back wit tiki tourches, coy pond and lush sod. One of our favorite runs in the summer time.
* Honest? Johns Bar - Currently at 416 Field St. at Jefferson just north of the Belle Isle bridge, Johns will soon be mooving to the Cass Corridor to join the allready booming resurgence of nightlife sprouting up throughout the once derilected neighborhood. Their moving to 488 Seldon (off of Cass, west of Woodward, north of the Chrysler Fwy). Same great bar. Same zany fundraisers for which John is famous. Just a different location. We ALWAYS stop here when we're in this part of town.

EAST SIDE
* The End of the Park On 9 Mile Rd. between I-75 and Woodward in Hazel Park. This is the official home away from home for a lot of the Stonehouse crew. Todd the owner is a great guy and a real supporter of riders of all types. Lots of summer events such as bike shows and bar-b-que's along with lots of other fun stuff. Always cold drinks and lots of great folks.
* The Kozy Lounge One of a handfull of bars in the near east side area where no matter where you go you are likely to run into a lot of the same people. On 10 Mile Rd. just east of John R. in Hazel Park. Probably the best bar burger in town (the town of Hazel Park anyway). Again, lots of you folks and bikes are always welcome.
* The Starting Gate Just a little place but again a regular stop for most of our crowd. Located on John R. between Wooward Heights (9 and 1/2 Mile) and 10 Mile Rd. in again, you guessed it, Hazel Park. GREAT pizza and really bad but really fun Karaoke on Saturday nights.
*Gusoline Alley Located in Royal Oak between Third and Fourth St. 1 block west of Main. This is a great regular hole in the wall bar that serves as an island of sanity (and on some nights insanity) surrounded by the sea of hipsters, posers and wanna bee's that make up most of the Royal Oak Crowd. Guss's as it is called by the regs' is just a cool little laid back bar where you really wouldn't expect to find one. Great beer selection but parking in that area can only be described as A PAIN IN THE ASS but worth the hassle. Most memorable thing I've had to say to someone in Royal Oak, "Man if I saw myself in leathers like that I'd have to kick my own ass!!!". Have fun but be cool, the cops there don't play.

WAY NORTH
* The Lake Orion Sports Bar Located on M-24 just south of Lake Orion on the west side of the road just south of the K-Mart. A cool little place with GIANT frosty 2 dollar draft beers and the spiciest cajun peanuts around. About 30 of us rolled into this place one Sunday morning at noon and the place went from zero to party in under a minute. Good folks who know how to party and VERY biker friendly.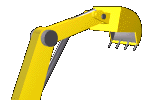 This site is still under construction. Please check back soon